About Us
Custom Body Bootcamp is dedicated to helping people change their lifestyle by turning bad habits into good ones! We designed our boot camp to fit the needs of all fitness levels. Don't be intimidated by the word "boot camp," we practice interval training (HIIT) but we do not force you or make you do things that your body is not ready to do. It's all about going at your own pace and letting your body adapt to the exercise, as it naturally will!

OUR MISSION STATEMENT
Custom Body Bootcamp aims to empower the local residents of Inglewood and the surrounding areas to create happier and healthier lives through exercise and nutrition. We have developed a platform to educate and provide our clients with the tools to eat healthily, all while exercising in an environment that is fun, supportive, safe, and taught by caring, professional trainers.
---
Paulo
I became a personal trainer, not by choice, but because of a passion. When my mom got cancer about six years ago, luckily, being already in the fitness field, my passion just grew. I wanted to make a difference and combat real-life crises like disease, obesity, and laziness. I enjoy being a trainer but as for me, it's not just a job, it's a lifestyle and I love the benefits being fit and healthy. It doesn't come with the perks of traveling the world, but for me seeing results and smiles for my clients make all the difference in the world for me. I enjoy seeing my clients sweating even though they may hate me at that moment; they know that it's all about them and I'm not punishing them. It's all about the results and the goals, as I always preach "Let's be one percent better than yesterday!"
---
Zach
I'm originally from Louisville, KY and I moved to Los Angeles from Ohio. I have always had a passion for helping others. I played college football at Tiffin University from 2008-2012 and after I finished, I worked in corrections. I'm certified through NESTA and have been doing personal and group training since 2013. What I like most about training is being able to help someone reach his or her goals; being able to motivate and inspire them to never give up. I started with Custom Body Bootcamp in March of 2017. Not only am I a trainer but I am also a member. I lost 41lbs from March of 2017 to July of 2017 and I feel great. The environment here is so amazing and everyone is so caring! That's why I love this place and the members. I have been in their position before and I know what it's like to struggle. As individuals, we fall down but we have to remember to pick ourselves back up and keep going, keep striving, being determined to succeed in any part of life with unwavering conviction. I believe anyone is able to become a better version of themselves. The journey of a thousand miles begins with one step.
---
Ingrid
Hello, I'm Ingrid Frias-Coles and I'm 33 years young! I've been a personal trainer for three years. I've not only made weight loss a priority in my life- I've also made it a  career! I am happy to say I'm not only a trainer at Custom Body Bootcamp but I'm what they call an original OG CBB member— one of the very first! As a member, I felt blessed to find a community of people who were looking to get healthy and fit, just like me; people who were equally supportive and encouraging to each other. This motivated and fueled my passion for creating changes within myself and others. Naturally, I'm an introvert, a "behind the scenes" kind of girl, but becoming a trainer has changed all of that for me. I found my calling in training… call it "divine intervention" if you must. As a trainer, I strive to inspire and move people in the right direction. I want our members to learn how to create and maintain long-lasting health. Putting my health first was important because at the age of 10 I lost my mother to cancer and diabetes. When I found Custom Body Bootcamp I made a pact with myself NOT to be the passenger seat of my life anymore; now, I'm the driver. My mother was 32 when she passed away, leaving behind four children. Sadly, I can't escape my family medical history, which puts me at a higher risk for numerous diseases, but I can make a personal change in my own life to prevent the same outcome. Our members are fierce!!! They are the driving force of my day-to-day. I'm as dedicated to them as they are to their change, if not more so.
Lorraine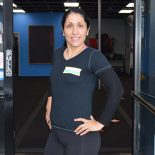 I have been training since 2013 I am passionate about health and fitness and love helping people change their lives. Learning to eat healthily and exercise has changed my life.  I am a single mother of three and I struggled with an eating disorder for many years and later, I was diagnosed with uterine cancer. This made me realize that I need to change my life because I was killing myself with the eating disorder and many unhealthy choices. I knew that I had to make changes in my life because I wanted to live and be there for my kids; this is when I turned to healthy eating and exercise. Through this journey, I have also learned to love myself and have created a healthy lifestyle. I am happy to say that I am now cancer free and grateful that I get to be there for my kids.
While I was going to therapy and eating healthy, I decided I wanted to become a personal trainer. I wanted to help others learn to love themselves and change their lives like I had done. I started studying and become a personal trainer and it gives me great joy to make a difference in other lives by motivating them to be and live healthily and find their better self.